Description
The "Thin Blue Line" stands for law enforcement's separation of order from chaos, or, as Oxford Dictionaries describes, it's a reference to police, "in the context of maintaining order during unrest." … The thin blue line flag stands for the sacrifice law enforcement officers of this nation make each day.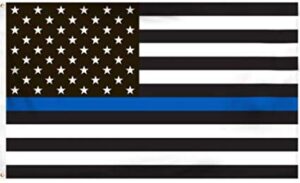 INTEX cables are completely hand made from the finest components available. All connector parts are made of solid metal, from the brass M642/1-1 Military Spec connector & custom engineered shell to the plated steel stress relief spring. All cables are handmade with Belden 8412, an industry standard microphone cable for over years. No compression or crimping is used to attach cable to connector, INTEX cables are welded insuring the strongest and most durable connection possible.
Half of all profits from the sale of these cables will go to SDF, National Disaster Search Dog Foundation (searchdogfoundation.org), an organization that rescues dogs and turns them into first responders.
Features
​Because of the unique hexagonal shape of the connector shell, flat surfaces allow custom engraving. Personalizing individual cables reduces the occurrence of another band mate packing away the wrong cable or worse. The longest name we have done is Yngwie Malmsteen, so 16 characters is the limit per line. All sides of the hexagonal shell get engraved, if you would like to have some custom engraving done (your name, band name, police station number) we can reserve a space to include this.
​The default color scheme for this cable is black cable and black shells. If you would like to customize your cable by using a different color scheme or a particular length or even a right angle connector on one end, just contact us at [email protected].
​Every cable is serialized to keep track of each and every cable manufactured and its purchaser.
​
​
Additional information
Specifications

Capacitance between conductors = 98 pf/M (30 pf/ft)
Jacket = 0.89mm (0.035 in)
Conductor AWG = 20 (26 X 34)
Conductor material = ETP high-conductivity copper (99.95% pure copper).
Insulation & outer jacket material = EPDM Rubber (Ethylene Propylene Diene Rubber)
Operating temperature range = -50 deg. C to +90 deg.C (-58 deg. F to 194 deg. F)
Maximum recommended pulling tension = 45.45 Kg (100 lbs)
Minimum bend radius (install) / minor axis = 70 mm (2.750 in)
EU ROHS Compliance = 01/01/2004
Nominal inductance = 0.055 uH/M (0.18 uH/ft)
Nominal conductor DC resistance @ 20 deg. C = 32 ohm/1000M (10.6 ohm/1000ft)
Nominal outer shield DC resistance @ 20 deg. C = 13.7 ohm/1000M (4.5 ohm/1000ft)
Only logged in customers who have purchased this product may leave a review.